The traditional jester, troubadour and harlequin are displayed in the joker collection which includes about 75 cards in the first five groups.
Begin the tour with acrobatic jokers or see the latest additions - jugglers and minstrels. Links for the other joker groups show the quantity of designs to be displayed.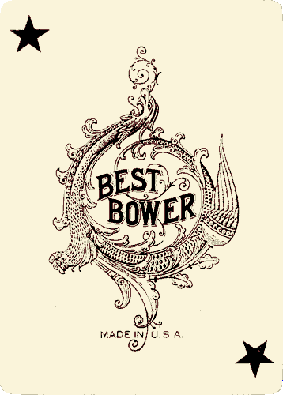 mouseover to see card back
From a facsimile edition of Canary Playing Cards made for poker, printed by The New York Consolidated Card Company of New York, NY.
The Best Bower card (above) is similar to the first joker ever printed, about 1870, for the game of Euchre. It took more than 400 years after cards first appeared in Europe before the two extra cards were included in a standard deck of playing cards. More information is available on the Playing Card FAQ about the origin of the joker.
Fool: also called jester, a comic entertainer whose madness or imbecility, real or pretended, made him a source of amusement and gave him license to abuse and poke fun at even the most exalted of his patrons."

(Encyclopedia Britannica, 1995)

.
The joker card is a registered trademark, which presents an opportunity for the playing card publisher to add something unique to their deck of cards. The original artwork can go through many changes over the years, and different cultures often add their own influence to the costume and scenery.
Playing card makers also produce another unique and ornamental card in the deck — the ace of spades was traditionally used for taxation purposes.
Card collecting supplies - 9 pocket pages and sleeves for joker playing cards, baseball cards and artist trading cards.
List of joker web sites
12 playing card joker collections are currently online. The list can be sorted alphabetically, by number of cards, etc. with a brief description.