United States Playing Card Company
www.usplayingcard.com
Since 1894 "The United States Playing Card Company is the leader in the production and distribution of premier brands of playing cards, including BEE®, BICYCLE®, AVIATOR® and HOYLE® playing cards."

COPYRIGHT INFORMATION

BICYCLE®, BEE®, AVIATOR®, HOYLE®, CLUB SPECIAL®, the Rider Back Design, the Diamond Back Design, the Goddess of Liberty, and other brand names, card back designs and designs of Aces and Jokers ... are registered trademarks of The United States Playing Card Company in the United States and other countries.
| | |
| --- | --- |
| BEE® | BICYCLE® |
| | |
| --- | --- |
| Liberty | |
>> United States Playing Card Company History page
1881-1885 - "Russell, Morgan & Co."
1885-1891 - "Russell & Morgan Printing Co."
1891-1894 - "The United States Printing Co."
since 1894 - "The United States Playing Card Co."

USPCC acquired these other companies:
• The Standard Playing Card Company (Chicago)
• Perfection Card Co (New York)
• New York Consolidated Cards:
• The Bee Playing Card brand is owned by USPCC
and originated at New York Consolidated in 1892.

1969-1989 USPCC was acquired by a series of new owners.

• In 1986, the company acquired Heraclio Fournier, S.A.,
the largest playing card manufacturer in Europe.

• Arrco Playing Card Company Chicago, USA
1920s-35 named Arrow Playing Card Company
1987 the brand was acquired by USPCC

In 1994, a successful buyout returned control of the company to Management and local investors. On June 29, 2004 the Jarden Corp. of Rye, NY, signed a definitive agreement to purchase US Playing Card Co. for $232 million in cash. In addition, there's a stipulation in the contract that the US Playing Card Company and its 510 employees will remain in town.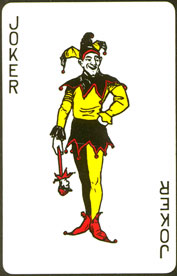 KEM Plastic Playing Cards
Scranton, PA 18504
Poughkeepsie, NY 12601
http://www.kem-cards.com
A jolly joker holds his finger to one side of his nose - a common theme in card designs. This jester is "in" on the joke, or gives a signal to someone - a performance to amuse the King and court. This joker will be in the "portrait" group at dotpattern, soon.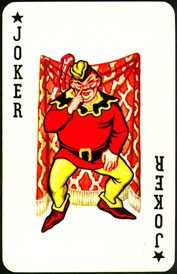 Western Publishing Company
Since 1927
These jokers will be in the "symmetrical" group at dotpattern.
It took 400 years after the first playing cards were used in Europe (circa 1450 A.D.) for the first "double ended" court cards to appear. Created to avoid re-arranging the cards with the "heads up" - and giving away your hand to other players who could see that you held court cards.
Information from: Benham, W. Gurney Playing Cards: History of the Pack and Explinations of it's Many Secrets (n.d. 1960?) Spring Books, London.