Japanese rubber stamps
Tokyo and Kyoto - 2003
| | | |
| --- | --- | --- |
| If you like rubber stamps, take a trip to Japan, where nearly every historical monument has been thoughtfully furnished with a rubber stamp station. Look for a simple card table with stamp pads at train stations, temples and shrines. | | This stamp glorifies the various forms of the Shinkansen or "bullet train" at the main train station in Tokyo. Even the slowest, local train is called the "express" - 6 hours from Tokyo to Kyoto. The "super express" Shinkansen takes only 2 hours to get there, non-stop. |
A rubber stamp from the train station at Hamamatsu City, home of Shizukoka University, and American author M.G. Sheftall. His new book recounting the lives of the remaining Kamikaze pilots is available in the State. Visit author's web site to see award-winning models of WWII aircraft.

The stamp shows the "Matsuri" or town festival that happens during May in towns all over Japan. Traditional garments. music, parades, flea markets and a warm village atmosphere.
Kyoto is one of the most beautiful cities in the world; surrounded by a horse-shoe ring of mountains with ancient temples and rainforests with wild monkeys. This rubber stamp shows the huge bald spot on the hillside shaped like the japanese character for "Mountain" which is set on fire during a festival at night. The stamp also shows the main train station, the nearby Kyoto Tower, and a temple in the background.

The peaceful Imperial Palace and Garden is located in the center of Kyoto, a refined version of Central Park in New York City. Downtown Kyoto is filled with beautiful gardens and temples, often hidden away in a block of nondescript buildings.
This is a "Stamp Book" produced by Japan Rail for a Rubber Stamp Rally to celebrate the 'birthday' of Astroboy on 7 April 2003.

The diagram shows the train stations in Tokyo that are part of the rally. Get a different stamp at all the stations and then send the stamp card in for a chance to win ¥10,000 and other Astroboy prizes.

The theme song from the television show was playing on the public address system at the Ochanomizu train station, the neighborhood where the robot boy was created, known in Japan as "Tetsuwan Atom".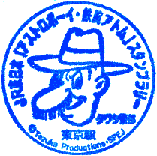 Astro Boy action figures, toys and games

Astro Boy was the first popular anime character! In a world where androids co-exist with humans, The original cartoon robot fights alien invaders and bad guys...